About PPSA
An international trade association serving the pipeline industry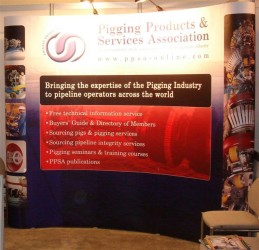 The Pigging Products and Services Association (PPSA) was founded in 1990 by Jim Cordell and now has over 120 members from over 20 countries, representing the pigging industry throughout the world.
The Association is entirely funded by its members through their annual subscription fees. Its aims are, "To promote the knowledge of pigging and its related products and services by providing a channel of communication between the members themselves, and with users and other interested parties".
PPSA plays a major role in providing information and sourcing equipment and services, for pipeline operators and the industry generally and responds to hundreds of enquiries each year.
The PPSA web site enables visitors to source the products and services they need quickly and easily and provides a link to PPSA's technical information service.
PPSA runs seminars and training courses on pigging, sponsors lectures and meetings about the subject and supports relevant conferences.
Full members are companies manufacturing or marketing pigging products or services.
Associate members are companies connected with the industry, e.g. operators, supplier's and allied industries.
Individual members are anyone with an interest in pigging.
Anyone requiring further information or who is interested in joining the Association should apply directly to:
Diane Cordell,
Executive Secretary,
Pigging Products & Services Association,
P O Box 30,
Kesgrave,
Ipswich,
Suffolk,
IP5 2WY, UK

Tel: +44 1473 635863 Fax: +44 1473 353597
E-mail:
DIRECTORS AND OFFICERS - 2017
President
Chuck Harris, T D Williamson, USA
Vice President
Michael Rapp, ROSEN Group, Germany
Director/Past President
Iain Shepherd, Halliburton Pipeline & Process Services, UK
Director
Jessica Nichols, Inline Services, Inc, USA
Director
Simon Bell, Inpipe Products Ltd, UK
Associate Director
Anthony Rose, Vitrozcell USA, Inc, USA
Treasurer
Aidan O'Donoghue, Pipeline Research Ltd, UK
Executive Secretary
Diane Cordell, Audium Solutions Ltd, UK
Technical Advisers
Aidan O'Donoghue, Pipeline Research Ltd, UK
David E Bull, ViaData LP, USA
Jack Smart, John Smart Consulting Engineers, USA
Patrick C Porter, P C Porter Consulting, USA
Doug Woodley, Woodley Pipeline Services Ltd, UK
Mark Elliott, Process and Pipeline Consulting, USA