Vitzrocell USA, Inc.
Associate Member
Vitzrocell USA, Inc., formerly Exium Technologies, Inc., a division of Vitzrocell Co. LTD, is a manufacturer and distributor of Lithium Metal Batteries for use in Pigging and Downhole operations for the oil and energy industries. Vitzrocell USA products are used worldwide in oil and gas operations, providing excellent performance and long life under extreme conditions (high temperature, shock and vibration). Vitzrocell USA currently provides batteries to major corporations in Houston, Calgary and the United Kingdom, and expending to new markets in Central America, South America and Europe.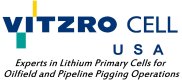 Vitzrocell USA, Inc.
10804, Fallstone Suite 200, Houston, TX 77099, USA
Buyers' Guide Categories
Battery Manufacturers