Gulf Strategic Partners WLL (GSP)
Full Member
Gulf Strategic Partners (GSP) was established in the Middle East in 2004, with headquarters in Bahrain and offices in Saudi Arabia, Qatar, Dubai, Abu Dhabi, Kuwait and India. Collectively their personnel have over 350 years of industrial cleaning expertise. They are ISO 9001:2008 certified.

Gulf Strategic Partners provide services including steam blowing, chemical cleaning, water milling, pipeline services,, pigging, hydro testing, de-watering, swabbing, air drying and N2 layup, surfactant cleaning, gauging, gel debris pick up, process system drying, N2 purging and preservation, helium leak testing, lube oil system flushing, fin fan cooler cleaning, process decontamination, tank cleaning, wire brush pigging to remove debris in pipelines.

Pipeline pigging is performed during new construction, decommissioning, abandonment and subsequent removal of pipelines.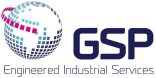 Gulf Strategic Partners WLL (GSP)
P.O. Box 2024, Manama, Kingdom of Bahrain
Buyers' Guide Categories
Foam Pigs, Testing, Drying, Commissioning, Cleaning - General, Cleaning - Pre-Inspection, Slug (Batch) Inhibition, Pig Tracking / Locating, Leak Detection